KNOW-HOW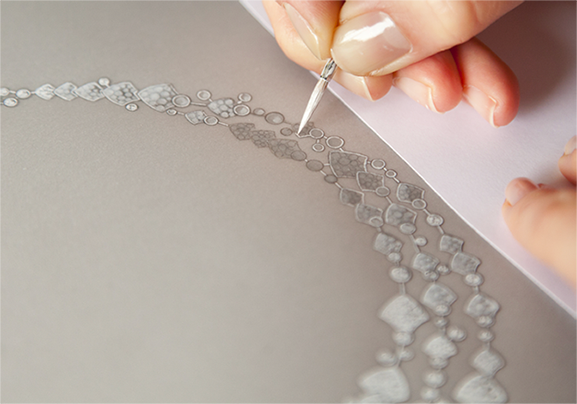 Creative adventure
Thanks to her outspoken character and love of creative freedom, Caroline Gaspard moves forward with fearless resolve, guided by instinct. Life itself is her muse: a phrase overheard, a line in a design magazine, a sight, a smell, an exceptional stone may spark an idea that soon becomes unstoppable, obstacles be damned!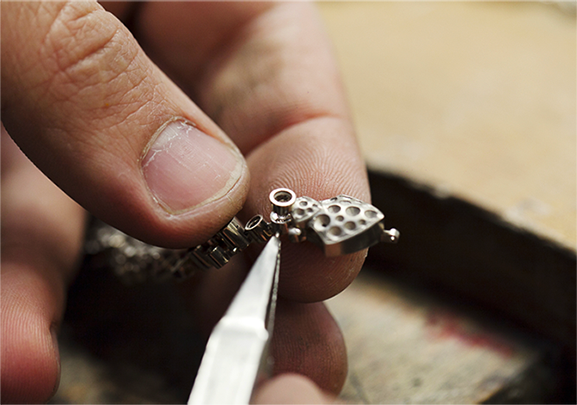 Excellence
à la française
When she first founded Akillis, Caroline Gaspard knew that her brand would be rooted in France, drawing on the time-honored savoir-faire that characterizes the French jewelry tradition. The workshops are located in the Lyon region, a bastion of creative excellence where the crème de la crème of master jewelers and other world-renowned craftsmen ply their inimitable trade. From molding to casting, from machining to finishing, from polishing to setting, fulfilling Caroline's goal of excellence calls for phenomenal dexterity: unmistakably Akillis.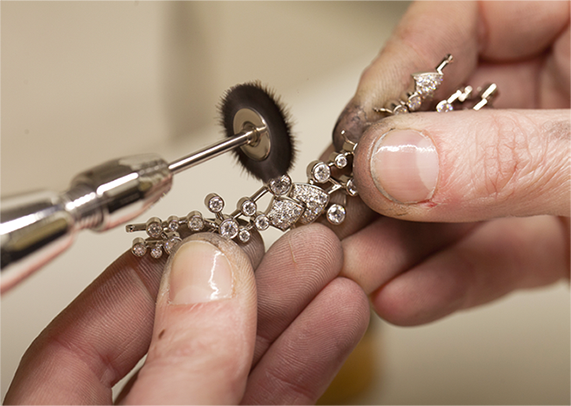 Glam'rock
mastery
Akillis uses materials and techniques that inject an ultra-modern rock flair into every piece. Black and white variations, radical settings and beveled forçat-link chains all enrich this organic, disruptive and sophisticated aesthetic vocabulary. With DLC, the material takes on a deep, velvety sheen. With titanium, pieces exhibit a modern metallic elegance. With black rhodium plating, grey gold gleams with untold brilliance.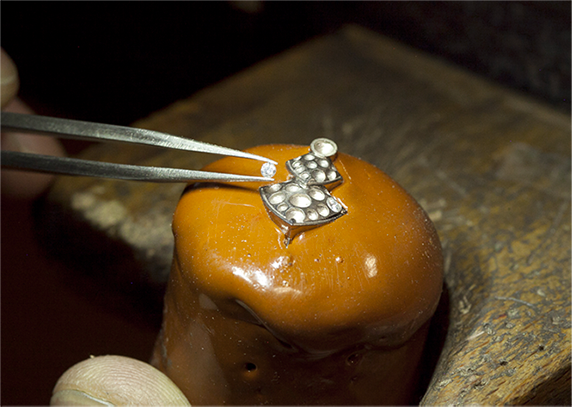 Close-up on
Akillis settings
Among the various setting techniques in Akillis' repertoire, two stand out: the sawtooth setting and the triangular prong setting. Both embody the brand's unconventional, sharp-edged personality. Those conspicuous setting thumbs its three-sided nose at classic codes, highlighting both the magnetism and the intense spirit of the faceted stone it holds.
Challenges and cutting-edge technologies
Artificial intelligence is no substitute for human intelligence, but rather a companion. It complements the patience, the ancestral savoir-faire and the dexterity of master craftsmen. Research and development, the cutting-edge technologies in which Akillis has invested, are indispensable if the brand is to fully live its uncompromising philosophy: they are the instruments of its consummate creativity and its quest for perfection today and tomorrow.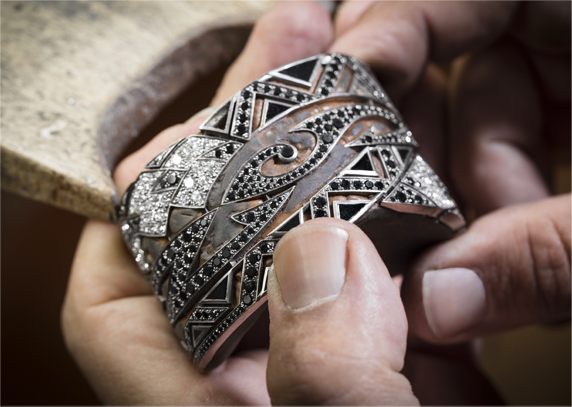 Precious stones for an adventurous brand
Akillis gemstones are personally selected by Caroline Gaspard, her discerning eye trained by her gemologist mother. Rebellious spirit oblige, the designer eschews classic stones, partial instead to the erratic, iridescent reflections of opal, as well as the impenetrable tones – fluorescent blue, blue-green and indescribable – of the Paraiba tourmaline. Akillis thus favors rough stones with intense color so that, once in troidia faceted, the gem will reveal its full beauty. In this regard, the skill of lapidaries lies in their ability to bring out perfectly straight and sharp edges in the stones they cut.